In case you are late to the party and still want to join up; it's definitely not too late, depending on your commitment and time availability.
If you are just starting now, I'd recommend starting with a high daily word count, and almost so a reverse word count for the rest of the month. If you are going to start now, I'd recommend you check out my recent posts on NaNoWriMo, on making sure you meet your word counts, the best NaNoWriMo writing prompts, and my most recent post, with a week of NaNoWriMo prompts for you.


In this article, I will quickly walk you through the following sections to give you a heads up on what all the NaNoWriMo is all about:
What is NaNoWriMo
When is NaNoWriMo
NaNoWriMo Rules
How to Win NaNoWriMo
NaNoWriMo Word Count
NaNoWriMo Resources
What and When is NaNoWriMo
NaNoWriMo, or Nanowrimo, from here on in, is the National Novel Writing Month of November, started in the United States. It's a community of writer's who publicly commit to writing 50,000 words, a 'novel' over the month of November, starting on November the 1st. It originated in the US in 1999, but now citizens from all over the world participate in Nanowrimo.
Nanowrimo Rules

The rules are simple, sign up, and commit to writing your 50,000 words by November 30th. And write. Write at least 1700 words per day to reach the target by the end of the month.
If you are starting today, we are already a week in. If you want to write an equal number words each day, then I would recommend writing at least 2,400 words for the remaining three weeks.
You are able to update your account at any time with your total word count, or daily words written.
It is important to Create and add your Novel to your account. Just add a title name and a short synopsis. This is required in order to 'win' later on.
When you have finished your novel or your 50,000 words, you must submit the text to the website in order to validate your word count.
How to Win Nanowrimo
In order to win, all you have to do is submit your completed novel or 50,000 words to the website, and they will then validate your 50,000 words. This will allow you to officially 'win' Nanowrimo. Now, you don't actually win anything, it's more of a self-achievement 'win' if you know what I mean. You 'win' by completing your long-awaited novel:)
You must have previously added/created your Novel to your account, too.
Now, some of you might not like submitting your actual novel to the Nanowrimo website; I know I don't, but you are able to use a random-text converter to create a document which matches your own personal word count which you can submit.
More on the Nanowrimo Word Count
Of course, the typical novel doesn't fit 50,000 words. This is only a guideline and is set there as it is believed to be a challenging but achievable goal, and is also the length of The Great Gatsby. Don't feel you have to finish your novel in 50,000 words; it may indeed need an additional 30-50,000 words, but use this as a starting point. Don't make your story fit the Nanowrimo mould. Use Nanowrimo as a tool to get the majority of your first draft written.
As I said above, you could opt to write 2,400 words a day, if you're starting today. However, you could an alternate method, which has been described as reverse Nanowrimo, which might be better, if you're starting late, or get behind in your word count. It involves starting with a higher daily word count and decreasing it each day until you reach 1 word on the final day. It was originally posted by txteclipse in a thread in the Reaching 50,000 Nanowrimo forum.
But may I suggest modifying and simplifying it a bit for the late starters?

If today is the 7th of November – you have the rest of the day to brainstorm and quickly pre-plot your outline a little and do a bit of character development. I definitely recommend my recent post on Nano Prompts to you, which will definitely help you here.
Then you will have exactly 23 days remaining to write your 50,000 words. I suggest:
Days 8-14 write 3500 words each day, giving you 24,500 by the end of Week 2.
Days 15-21 write 2500 words each day, giving you an additional 17,500 words, and bringing your total to 42,000 words.
For the final week:
Day 22 – 2000 words – 44,000 total
Day 23 – 1500 words – 45,500 total
Day 24 – 1000 words – 46,500 total
Day 25 – 750 words   – 47,250 total
Day 26 – 750 words   – 48,000 total
Day 27 – 500 words   – 48,500 total
Day 28 – 500 words   – 49,000 total
Day 29 – 500 words   – 49,500 total
Day 30 – 500 words   – 50,000 total
Of course, alter this in any way that suits your needs and preferences.
Nanowrimo Resources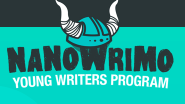 Something I've only just come upon, and want to share with you is a couple of cool little resources I found within the YoungWriters Progam NaNoWriMo site. They have a section on resources for writers which includes workbooks for the younger writers and also high school-aged writers. These workbooks, especially the high school workbook, are an excellent free resource, full of helpful advice even to the adult writer, and especially to the writer short of time, or ideas. I hope you check them out:)
I hope you've found these tips helpful and are prepared now to tackle Nanowrimo, even if its a few days late. And even if you don't make it to 50k words… You'll still get a great chunk of your novel written 🙂 Please let me know below if you have any questions or comments.
Happy Writing and Good Luck
Erica