Trying to free up some extra time and increase my creativity, I've decided to invest more time into exercising and getting fitter. It might not seem too applicable, but if you are trying to free up time in your day to write, and you are an avid exerciser, you could be wise in looking at a different training system. There are a few short training systems out there, and I almost started my T25 training again (BeachBody), but then I saw an ad for an app I hadn't seen or heard of before.
It's called 8fit, and promises short – less than 10 minute Tabata workout sessions. It's a personalized step-by-step guide with HIIT inspired training sessions and full meal planning via the handy phone or tablet app, and what follows is my personal 8fit App Review.
(This page contains affiliate or referral links, which means I receive a small commission if you decide to click through and buy anything. This is at no extra cost to you, but helps me maintain this website 🙂 If you want to know more, please read our Affiliate Disclosure.)
Since I'm rather unfit, I decided to go for the shortest duration workout option I could find. Thinking it will just be a little easier while I get used to exercising again. BeachBody's T25 is Hard, and I don't want to give up and quit right away. I'm saying this fully knowing that a short Tabata training session could – and Will be just as hard – but still, the 9-minute workout, testimonials and reviews on iTunes really pulled me in.
So, three weeks ago, I downloaded and signed up for the week-long trial, leading to the yearly subscription. I could cancel my year subscription before I was charged after 6 days if I didn't like the app, its workouts, or recipes, and not have to pay a thing, so why not?
[Side note: T25 is also really cool, and I'll give a review on that program in the coming weeks. But in the meantime, check out the reviews on Google, or get it straight from BeachBody or Amazon.]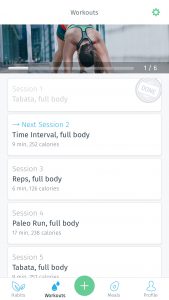 Summary:
Product: 8Fit App, available on iOS or Android
Price (RRP): limited free version up to a $59.99 Year Subscription
Preferred Place to Buy: Itunes or GooglePlay
My Ranking: 8/10
8fit Description
The app has three different options available when you start, free or Pro (12-month or 3-month subscription) with a 7-day free trial. From the reviews and testimonials, I jumped straight in and bought the 12-month 8fit Pro subscription with the week free trial, trusting I would know if the about was a dud within the first 6 days before I was charged.
And boy is it not! This is probably the most fun I've had in exercising in a long time, even though the workouts are pretty tough for me, even being on only the beginner workouts.
The app comes with Workouts to your specific level, and Meal Planning including Recipes and Shopping Cart lists. When you start, you choose you Goals and the app helps you to compile a specific workout plan just for you.
You can alter your goals and fitness plan at any time, and it gives you your daily target calories and target weight goal.
The Workouts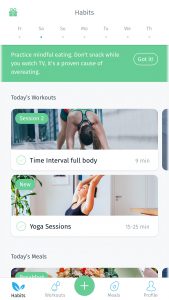 The workouts vary from day to day, but all are so short, so they are easy to fit into your day. You have the option to include a warm-up, which only adds on a few minutes to the workout.
Each workout has a preview of each exercise, so you can review how to perform it correctly, and you are able to swap out individual exercises if you need to change the intensity level of any exercise. The workouts are home-based, using your body weight and furniture you would have in your home.
As well as your chosen workout plan available, there are a series of Yoga sessions available too, from beginners to advanced. If your workouts are too easy, it's very simple to go into the settings and change your plan to a harder one.
I would usually use the app on my phone in my bedroom, using the furniture around me as props, but you can also airplay the workouts to your big screen, to use in your living room or gym.
The app also has a reminder function which alerts you to your scheduled workout session each day. This function is excellent as it pops up after your completed workout, and you can choose whether you want to complete your next scheduled workout right then, or when to schedule it for – I typically choose the next day at the same time, but as my fitness is increasing, I will soon start choosing to complete another workout that day; whereby completing approximately 20 minutes of Tabata training each day.
Meal Planning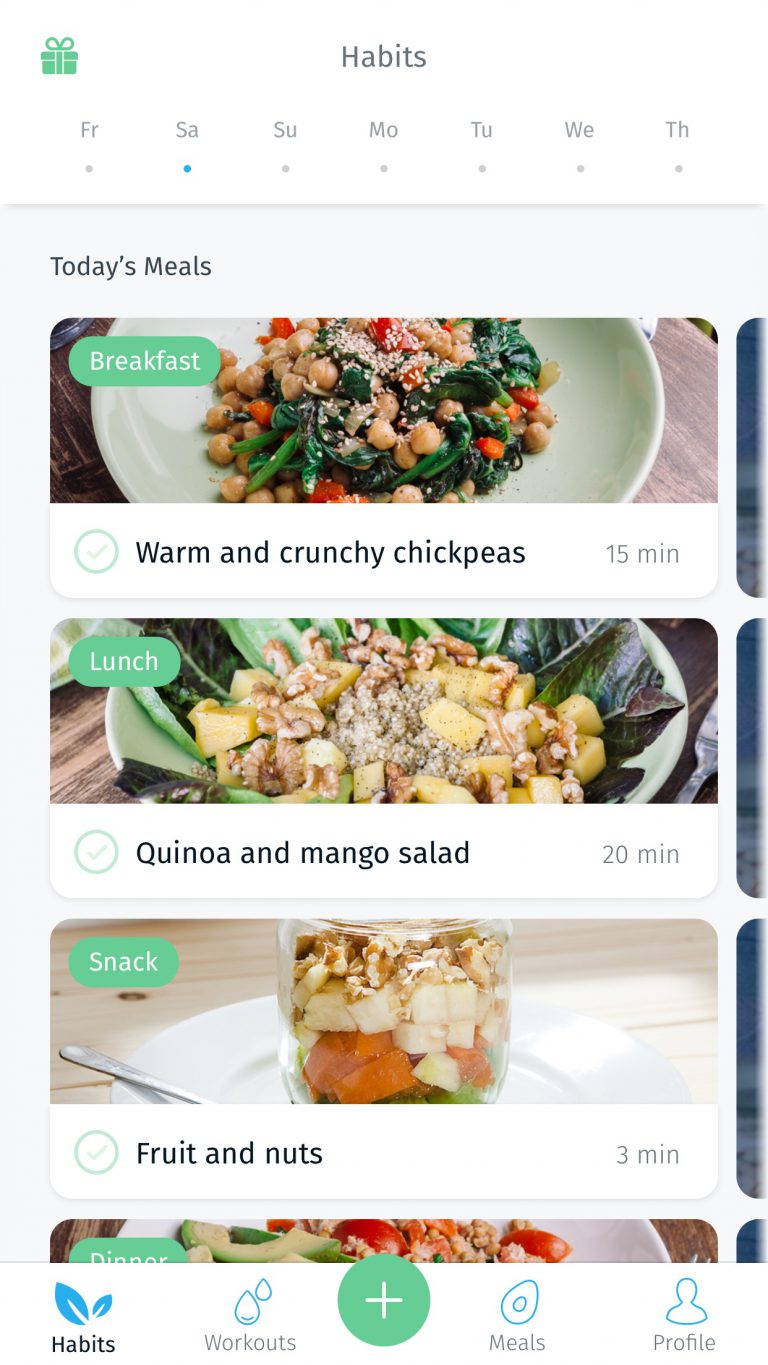 The meals planning section was something I was very excited about. And the meals I've tried so far are pretty nice and quick, which is important. You have lots of choices when setting up your meal settings, including a variety of limitation diets, including gluten-free, vegetarianism etc, and even have the option of eliminating single food items, such as tomatoes, or individual nuts etc.
My only complaint, so far with the meals, is that they are single servings, and there is currently no option to change it to multiple serves. This makes it a little difficult when planning to feed the family, or for making extra serves to freeze for later.
But it's not too much of a problem. Just double or triple the ingredients, so it's not too tough, it would just make life a little bit more convenient. I did message them and comment on this, and they responded pretty quickly and said they are working on providing that function in the future.
My Overall Rank
I have to admit I'm pretty happy with the 8fit workout app and am happy I upgraded to the pro version for the year. I cannot comment for the fitter people out there, but for the beginner exerciser, this app is really handy. The workouts are short and entertaining and fun! It's not too much of a struggle to get on your gear and get working out, which is all I need right now.
If you are new to exercise and need a quick workout, then definitely check out this app. For the new exerciser, I'd definitely give this app an 8 out of 10  for its convenience, accessibility and ease of use. I tend to really like home challenge programs, such as Michelle Bridges 12 Week Body Transformation, and especially the meal planning for programmes like these are really good, but the training sessions are just too long if you have limited time in your day. As I said, there are a few other options out there, such as 8fit, T25 and a shorter challenge program I've just only recently found, but have yet to try out, called The Happy Body Formula. The Happy Body Formula promises short workouts and a Paleo style diet, which looks promising, and I hope to trial it out in the near future.
---
---
I'd love to hear your feedback or reviews on 8fit Pro. What training do you do to keep fit and healthy, and how do you fit it into your day? Please leave your comment below.
Until next time – Happy Writing!
Erica