Within my personal writing vision, I see the '5 years in the future Me'; working from home and supplementing my partner's income, achieving this through my numerous published works 😉 and my website The Busy Writer's Notebook.
So today and every day, I take action with a proven strategy, so my husband can finally work in the same town as me, and be home with his children every day. And that is implementing what I'm learning at Wealthy Affiliate. Of course, my plan primarily involves publishing my novels, but I have no idea how much actual money that will make. I need a backup plan, and this is it.
This post is really a shout out to Wealthy Affiliate; my own personal Wealthy Affiliate testimony.



Working From Home Through Wealthy Affiliate
So, I continue to work on this blog. I make small commissions on my recommended products and therefore am able to contribute to my family's financial situation. This is my work from home strategy, with the help of Wealthy Affiliate. I have started the process, and know it's only a matter of time before my income starts to rapidly increase.
If you want to know more, please click the image above, and it will take you to a recent Wealthy Affiliate post of my own, reviewing my first few months there, via my own affiliate link (full disclosure: I will receive a small commission if you sign up, or become a premium member.)
I have added a Wealthy Affiliate review to the sister site Work From Home Writer, just in case anyone else is looking for a stay at home business alternative. I must admit, it takes a lot more work than I expected, and it's a long-term business, which I'm fine with. I'm in this for the long haul. I am committed to my fiction writing, and to creating an income to supplement my partners, from home, so I can continue to be here for my daughter.
For those who want to know more right now:
You can join Wealthy Affiliate as a Free Member for Life, and it will give you the first 10 training lessons for both the Certification Course and the Bootcamp Course. And you get two free websites, which you get to keep forever! Mind you, these are not dot com's.
Click the link below to get started:

The free membership is a great way to trial it out and see if it's right for you. The image below depicts the differences between the free Starter Membership and the Premium Membership:

Check out this video from the Starter Membership which shows you how to create a website in under 30 seconds!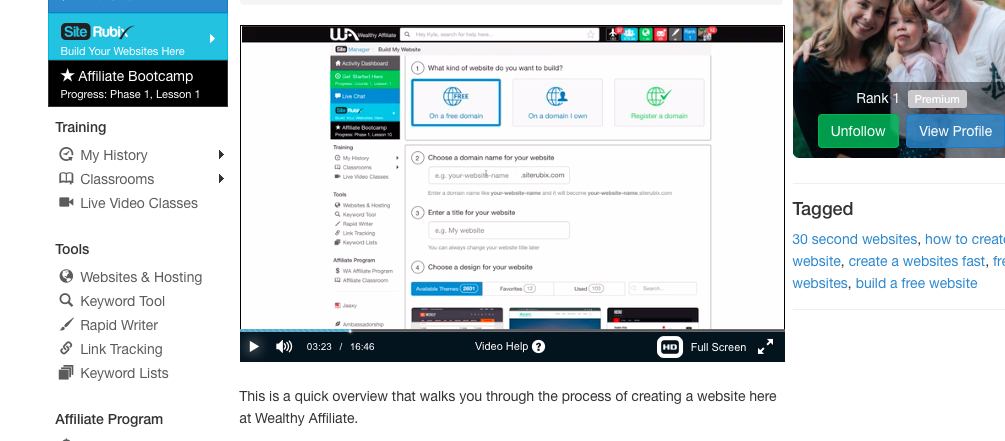 Once you head over to the site, you will find a tonne of success stories, information and testimonials from various users. You will notice that a key concept is commitment and not giving up.
Wealthy Affiliate's success rate is pretty high if you don't quit too soon. Here is one here, user Saco, describes how he is earning $4000-$5000 a month after only a year and a half. Now, this is what I am aiming for!
If you have any questions or thoughts about Wealthy Affiliate or creating your own website, please do not hesitate to leave me a comment below, and I will reply as soon as I can 🙂
Keep on Writing!
Erica