For the month of October here are 30 Halloween Writing Prompts! Finally, I'm bringing back our 30 Day Writing Challenge…
I'm going to be writing to one each day – just a page in my notebook – I hope you'll join me. These Halloween writing prompts have been written for adults, but they will be ok if you're in you're teens too:) I hope you like them!
Happy Writing!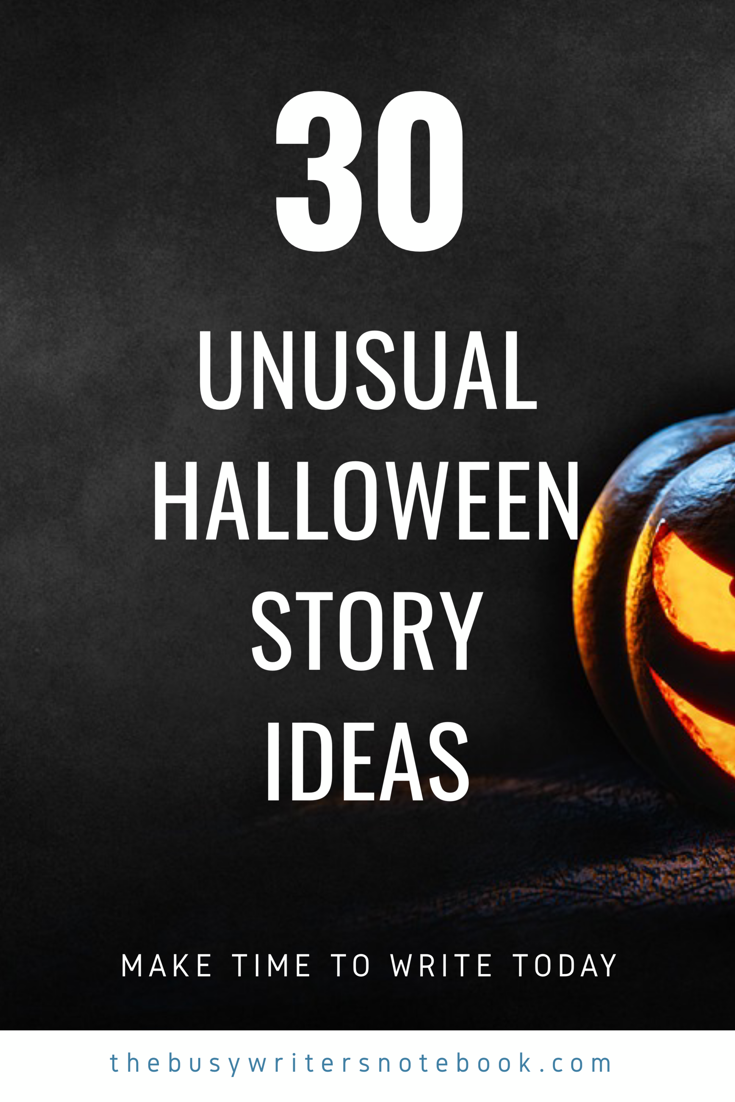 Halloween Writing Prompts for Adults and Teens
A college Halloween party takes a turn for the worse when a costumed guest shows up. But they aren't there for the party.
After your parents die, you inherit their old estate. For years, you've avoided it because you're convinced something is off about it. And upon stepping foot into the house, what lies inside is worse than you could have imagined.
You're babysitting a younger sibling for the night. While they play with their toys, you begin to hear them speak of things they were never told and couldn't possibly know. Things about you.
You've gotten used to the voices you hear in the forest near your house. You've grown up with them. One day, however, there is only silence.
Write about a village where Halloween is a mandatory holiday. Refusal to participate in the festivities means death.
A sports mascot, filled with vengeance, begins to terrorize the football team.
 You have a job as a clown, but with Pennywise and the Joker in the movies giving you a bad reputation, you'd like to dispel some myths. You're different and you have the perfect way to show that.
The day before Halloween, without warning the world goes from a sunny day to pitch black.
The circus arrives in your town. It has no cast, but that's okay. Whether they want to or not, their audience will perform.
The monsters under your bed swore to protect you. Now, years later, they have a different agenda.
A group of senior citizens has a secret among them. Every Halloween, they make sure no one finds out.
The undead start a support group. Write from the perspective of a newcomer.
You're a world-famous novelist, but unfortunately, you have a stalker who's determined to play out your latest novel in real life, with you as the protagonist and they the killer in the story.
You love your grandmother. She's in her 80s, but she still looks in her 60s. You chalk it up to good genes but one day she shares a secret of how she manages to look so young.
A simple game of Two Truths and a Lie turns deadly when the lies begin to become true. You begin to regret what you lied about.
Halloween Story Starters For Adults and Teens
"Don't leave any lights on. I don't need them to know I'm here."
The Ouija board politely asked the teenagers to leave it alone; it was trying to get some sleep.
This wasn't a game. It was very real. And that meant she was in serious trouble.
The music continued to play, again and again, a single word repeating: Get ready.
I believed things would be different. But that night, I realized how mistaken I was.
The door creaked open, and that was never a good sign.
Suddenly, his computer began to glitch, and symbols he didn't understand began to appear on the screen.
"I hope you have fun tonight," She chirped. "I think you'll find tonight very special."
The children eagerly ripped into their candy, but just as quickly dropped it in horror. This was very clearly not sweets, but carefully wrapped insects.
The line went dead and her heart dropped to her stomach.
The mother swallowed hard as she stared at her child's drawing. Who was the man that stood next to her?
Their eyes were most startling: a marbled effect of black and white.
Bit by bit, she crawled to the door, struggling to be quiet and trying to stay awake.
"I'm very charitable," he snarled. "I can't believe you all don't see that."
There was a knock at the door. "Trick or treat!" said a voice. A voice attached to a person that shouldn't even be alive.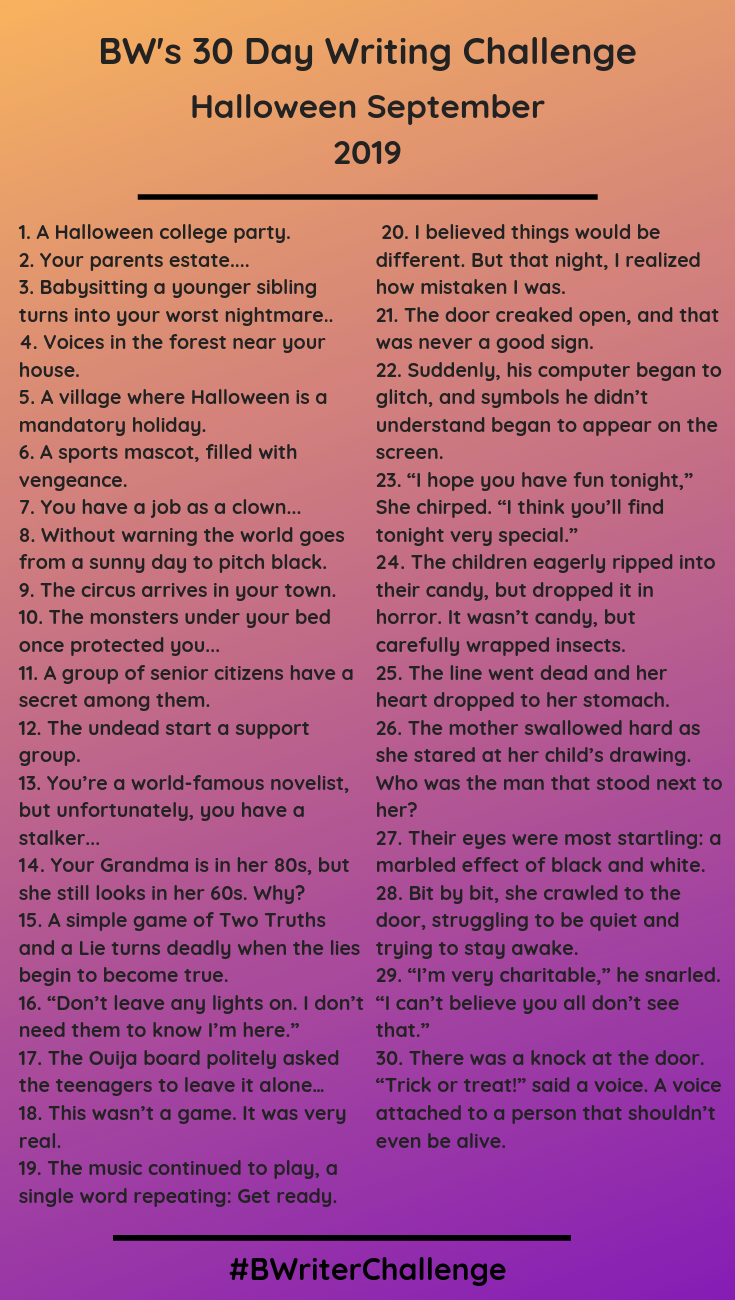 I would love to see what you come up with – let me know your favourite prompt below, or post of a snippet of your writing!
Happy Writing,
Erica
---
---