This month I wanted to focus on the fantasy theme to support the release of my 500 Fantasy Writing Prompt book.
So, here are 30 Epic Fantasy Story Ideas to get you started 🙂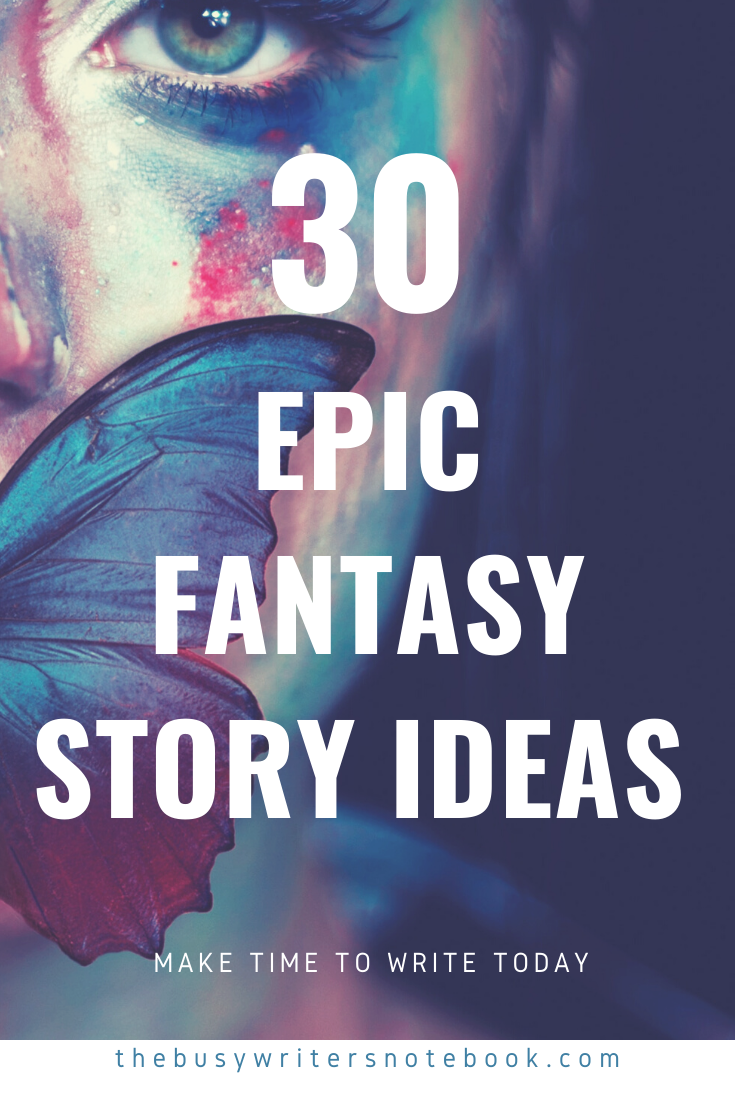 As always, there are no rules in writing with writing prompts, but if you'd like some guidelines, here are a few:
Choose a prompt that interests you or causes you a strong emotion.
Set a timer and write for 10 minutes – or 5 minutes, or 20 – whatever suits you.
Start writing and see where the words take you. If you have trouble getting started, ask yourself questions to get your fingers moving.

Who is your character in the prompt/scene? What do they want? What is getting in their way?
Who or what is your antagonist? What do they desire? How does this interfere with what your MC desires?
What conflicts does your chosen setting create for your characters?
What's the worse thing that could go wrong for your MC?
If you are still having trouble, check out Holly Lisle's post on writing well to a prompt– it's an excellent article, which will help you write to any prompt you are given.
15 Epic Fantasy Story Prompts
You have the ability to change the future based on whatever you bake.
Write about the fairy tale creatures that are anything but innocent. And the princess who is their leader.
A thief trades lives with a princess for a day, but has a plan to bring the whole monarchy down.
A mysterious staff that is rumored to contain all the world's magic has disappeared. You, a poor farmer, wake one morning to find it on your doorstep.
Your aunt's living room isn't ordinary. Stepping inside it can transport you to any reality you can think of.
Write about dream assassins who are tasked with fighting nightmares that disturb people's sleep.
The earrings you were gifted for your birthday aren't normal. Every time you put them on, you see the world as it really is.
Your friends convince you to go to a party one night and you reluctantly join them. However, this party is hosted by fairies looking for their next ruler.
A mysterious girl comes up to you one day. "I think you might need this," she says, handing you a thick book. "Remember the names."
Write about monsters who are deathly afraid of humans.
The evil queen keeps a diary. Write her first entry, her 12th, and then her last.
It's the annual wizards' conference and you're feeling less than enthusiastic about it, having fallen out of practice for years.
On the twelfth day of every month, the trees come alive and begin to speak to you.
Two friends who are royalty find themselves in a war against each other and against their will.
A group of high school girls find a spellbook in their library and decide to use it to their advantage.

15 Epic Fantasy Story Starters
Take a deep breath. At this time of night, the moon begins to smell like roses.
The child smiled, opened his hands, and summoned the darkness.
"The right letter," the woman whispered, "Can unite kingdoms…or destroy them. Choose your words wisely."
Brothers shouldn't fight each other for the throne. And yet, there they were. On opposite sides, swords drawn.
The songs came to a screeching halt as the doors were thrown open.
Within the depths of a cold and merciless prison, where no one could hear him, an old man cried.
"Fight for me, little knight. Fight because you have no other choice. Because the alternative is much worse."
The merchant sold just about everything: money, intelligence, memories. The only thing he never had in stock were clouds.
Night would soon arrive. They had three hours before they would come for the girl.
At the sound of their approach, the king rose, his shackles clanking.
"Stay still," the rebel reprimanded before they drew their mask over their face. "One movement will ruin this for all of us."
"Witches are actually quite good cooks. They're undoubtedly skilled in the kitchen."
The maid entered the room, wearing the princess's wedding gown.
In the middle of the gardens sat a pond. And in the middle of that pond was a fish who knew the secrets of the world.
"Courage," the ogre said. His eyes twinkled. "It's stronger than any man-made weapon."
I'd love to hear which prompts you liked best. Let me know in the comments, and I'll respond as soon as I can. If you would like more prompts like these, check out the upcoming 500 Fantasy Writing Prompts ebook, available now for pre-order.
Happy Writing!
Erica
**These are affiliate links, which means I receive a small commission if you decide to click through and buy anything. This is at no extra cost to you, but helps me maintain this website If you want to know more, please read our Affiliate Disclosure. 
---
For more Epic Fantasy Prompts check out the upcoming 500 Fantasy Writing Prompts book, available now for Pre-Order.